So, we've bought the miniatures, assembled them, and now it's time to paint. Nighthaunt appeared unexpectedly difficult for painting. Mostly because there are no straight lines in the models and everything should look light and floating on the air. And this is a tack for a skilled painter. We'll give you some advice on how to avoid mistakes, including the ones, we made.
---
I decided not to invent a bicycle and to try new Citadel technical paints - Nighthaunt Gloom and Hexwraith Flame. People also very often use Nihilakh Oxide for painting ghosts, I took it too. Don't primer your model in black before using these paints! The primer MUST be light-gray or white, the lighter – the better. The point is that not every primer works here. Usually, I use Vallejo primer for airbrush. It smells great and covers the model with a very thin and flat layer. But here it didn't work well. The point is that after it dries, it becomes smooth and solid. So, technical paint spreads over it unequally and doesn't create the required effect. Nighthaunt Gloom looks especially bad. So, I tried Tamiya spray primer. And this is better here. It gets a bit rough and porous, so technical paints soak into it and leave a better effect. But be careful with a spray – when there's not much left, it starts to spit out small bubbles, leaving your model look like a poxwalker. Not good for spirits.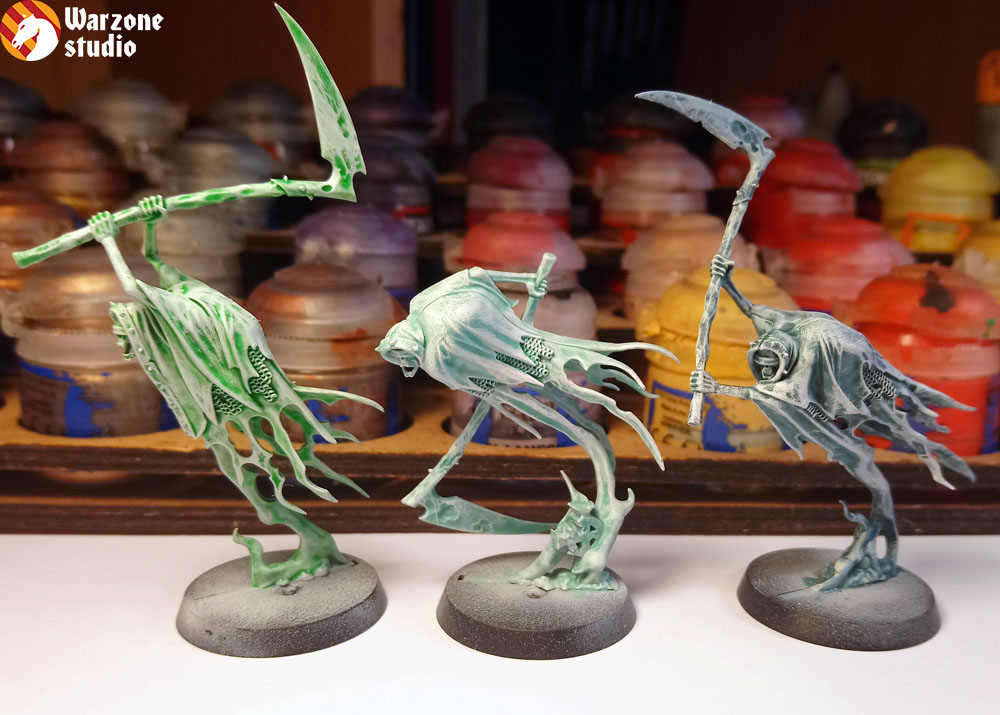 All 3 paints with white drybrush.
I liked Hexwraith Flame more than Nighthaunt Gloom. It looks great without any other paints and creates a nice glowing effect. The second one, in fact, is very similar to the diluted Incubi Darkness and works almost like a usual paint. New paints are something in the middle between glaze and wash. They are very liquid and fill in all the recesses, but also stay on the surface. Perfect for making smoke, magic, and spirits. In general, the easiest way to paint a Nighthaunt army is to take one of these paints and apply white drybrush. Nihilakh Oxide also looks great, by the way. If you are not completely confident that you can do a whole army in a difficult way, just use this method. All three variants are quick and look fine.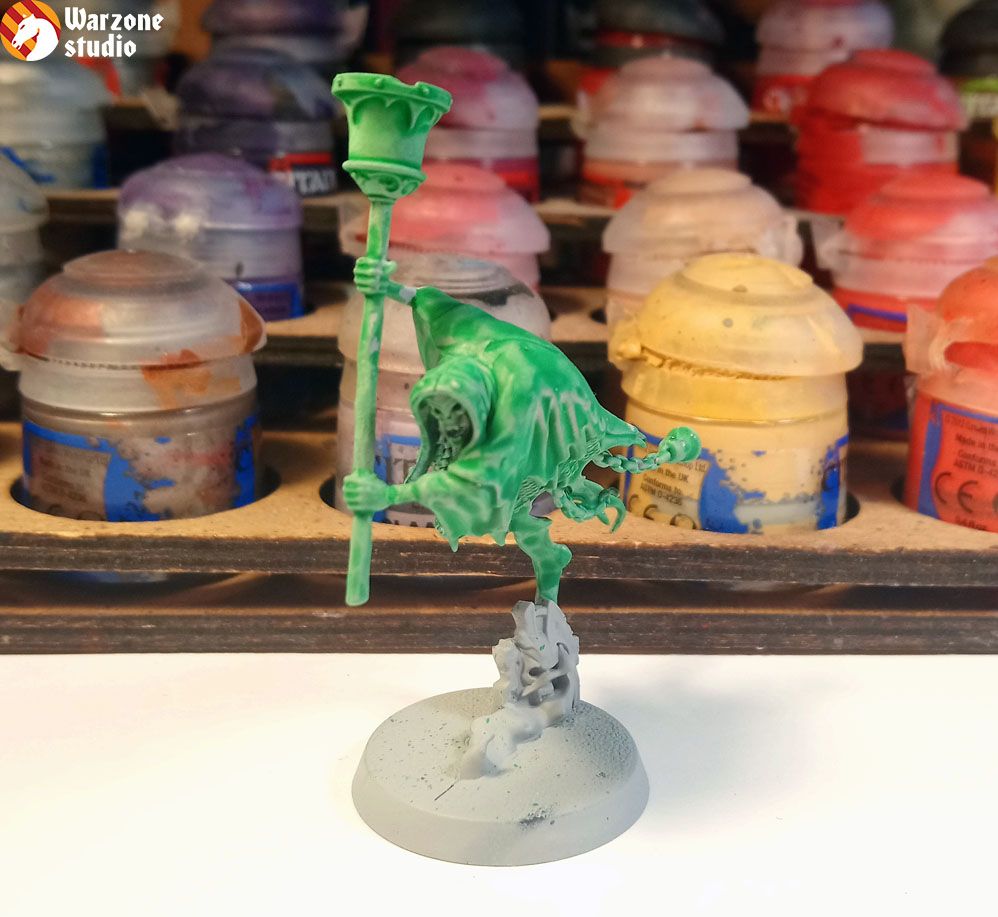 Pure Hexwraith Flame
I decided to make it a bit more complicated and combine all these paints. So, first, let's apply Nighthaunt Gloom. All over the model.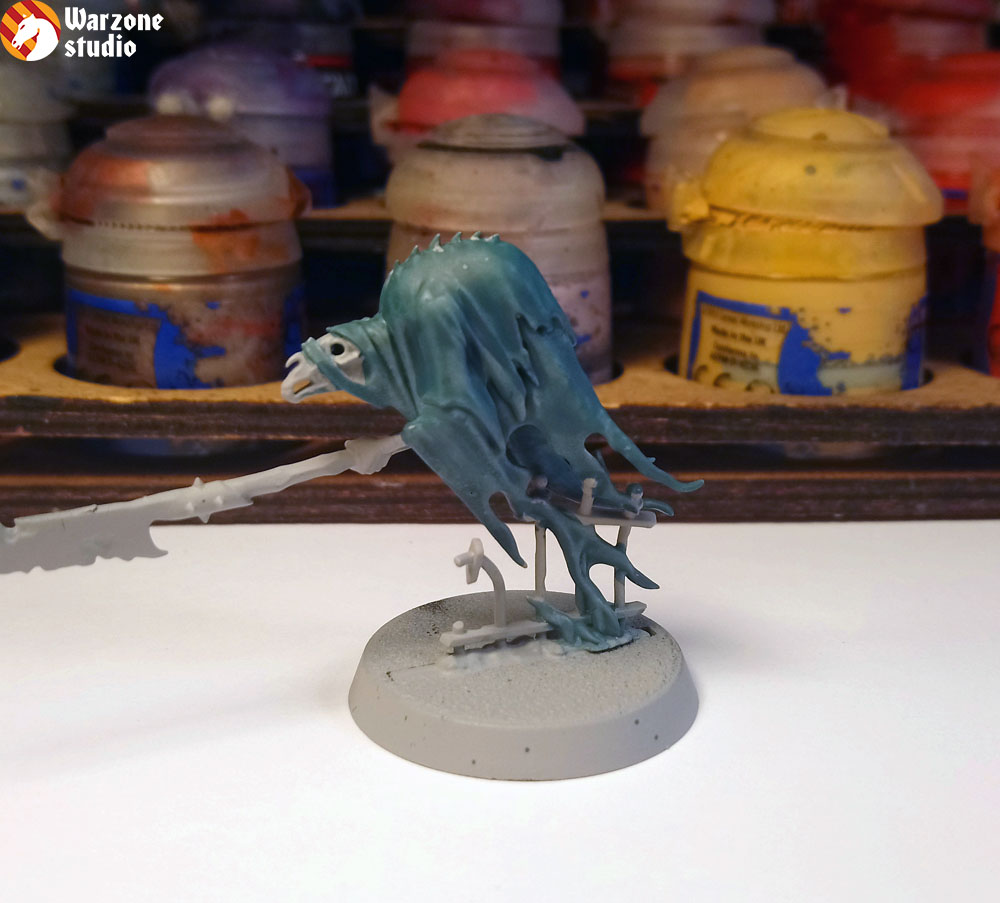 Pure Nighthaunt Gloom (Step 1)
Then cover the ghostly part with Hexwraith Flame. Why not over the primer? Because of this paint looks very bright on the light color and there's a big contrast with a dark cloak. When you apply it over the Nighthaunt Gloom, the transition looks smoother. I'll use it as it is for Spirits and magic. And Nihilakh Oxide will work for Banshees.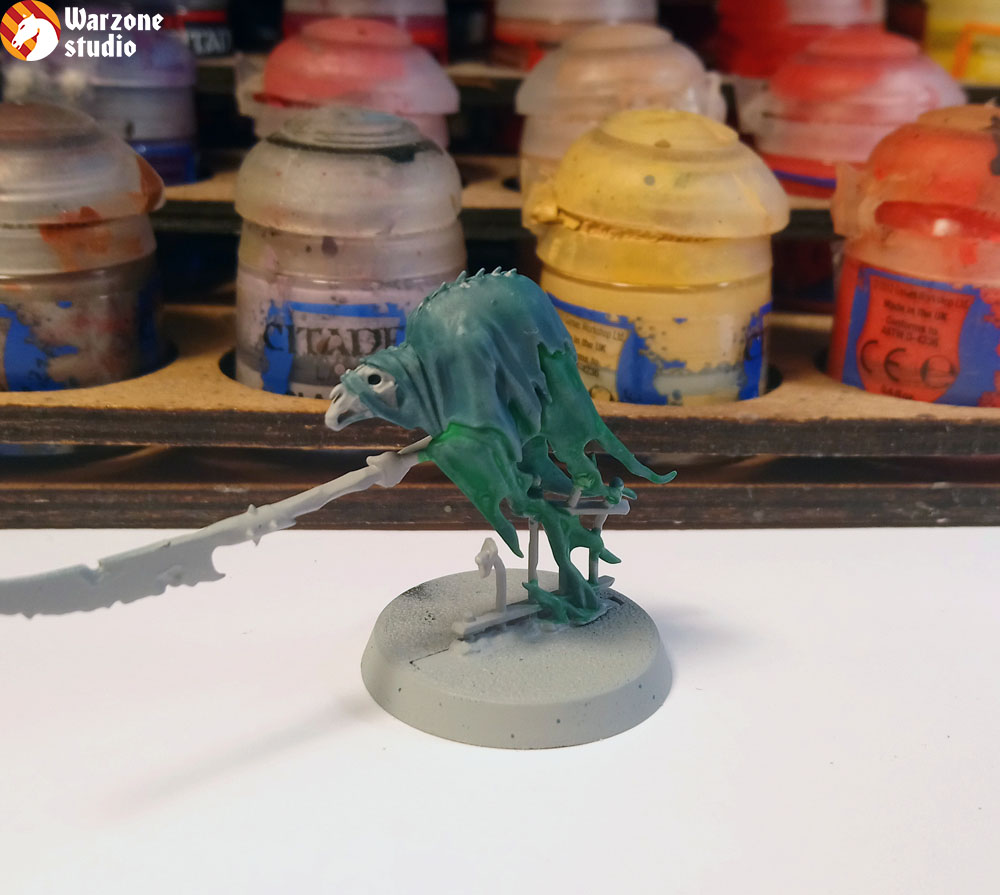 Hexwraith Flame over Nighthaunt Gloom (Step 2)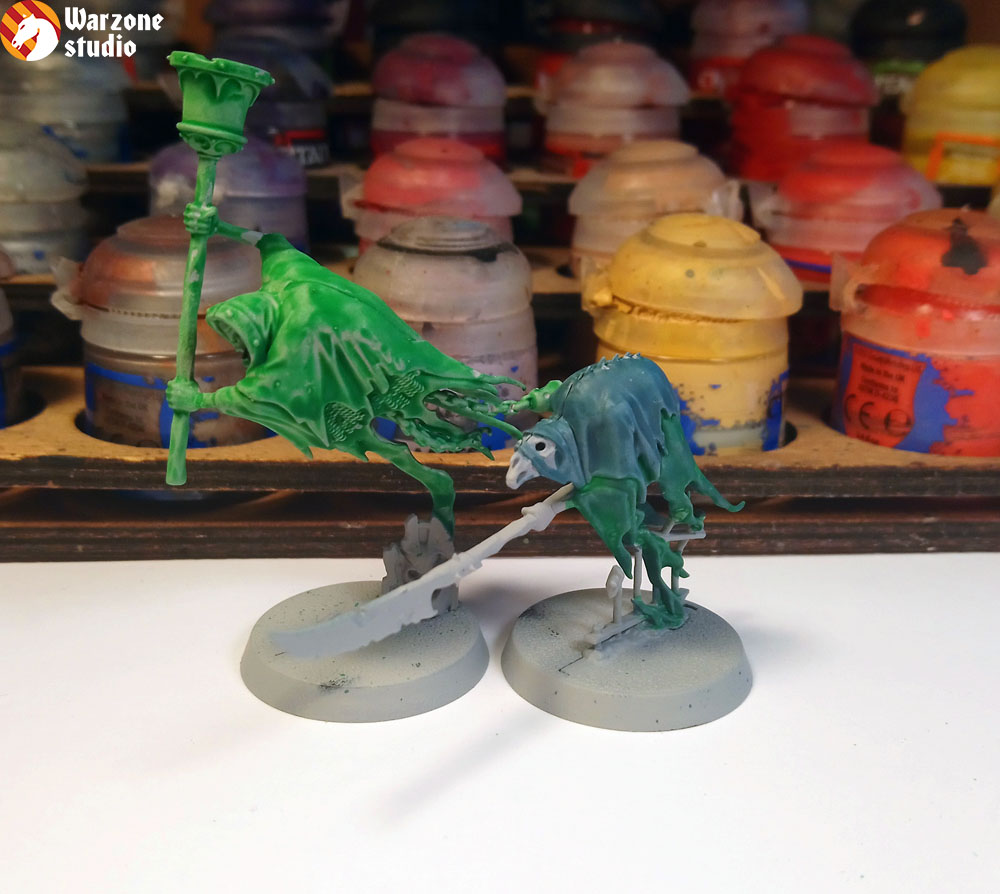 Compare pure Hexwraith Flame and over Nighthaunt Gloom
After this, apply a layer of careful drybrush. First, gray, then, white to make it more realistic. If you want a gray cloak to look darker, just apply the Nuln Oil before the drybrush. Generally, that's it. You can also make some shades, but it looks fine only if you have an airbrush.
Hands and skulls can be made with any bone color, lightened with white. Technical paints don't look nice here. Also, don't forget that all the weapons should look rusty and used.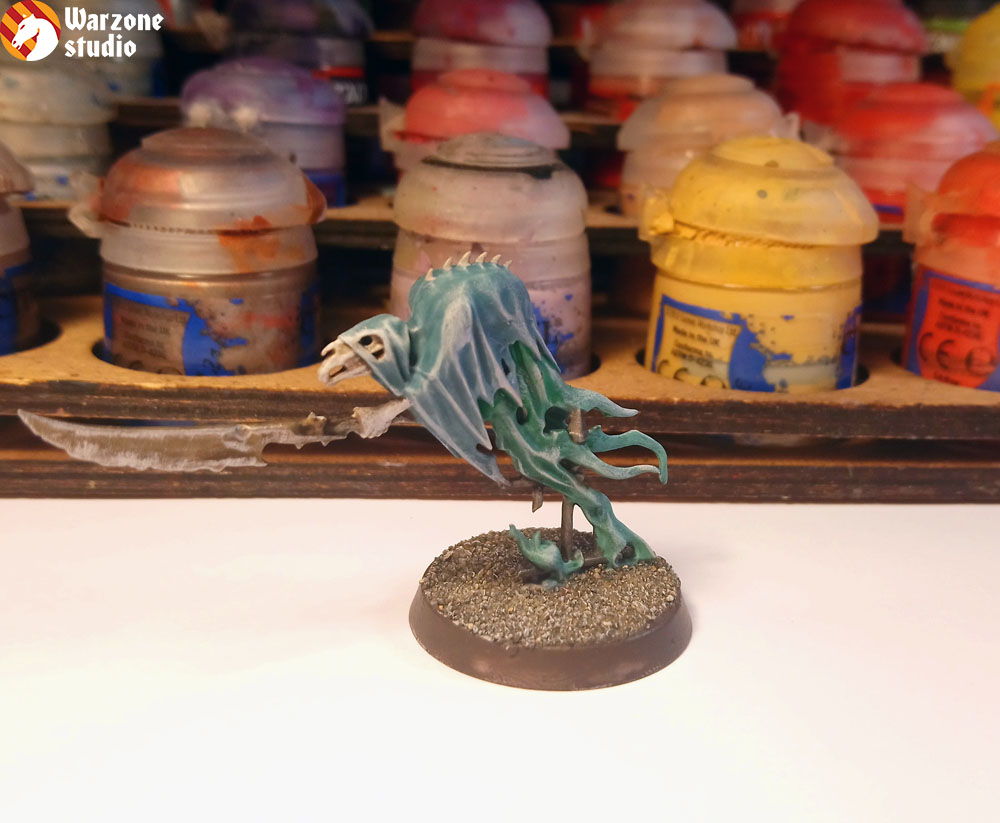 Final view with white drybrush and painted hands and weapon (Step 3)
So, this color scheme is not difficult and doesn't pretend for the Golden Demon. But it looks nice and lets you paint the entire army in no time at all.
---
The first part: https://warzonestudio.com/how-to-play-nighthaunt-pt1