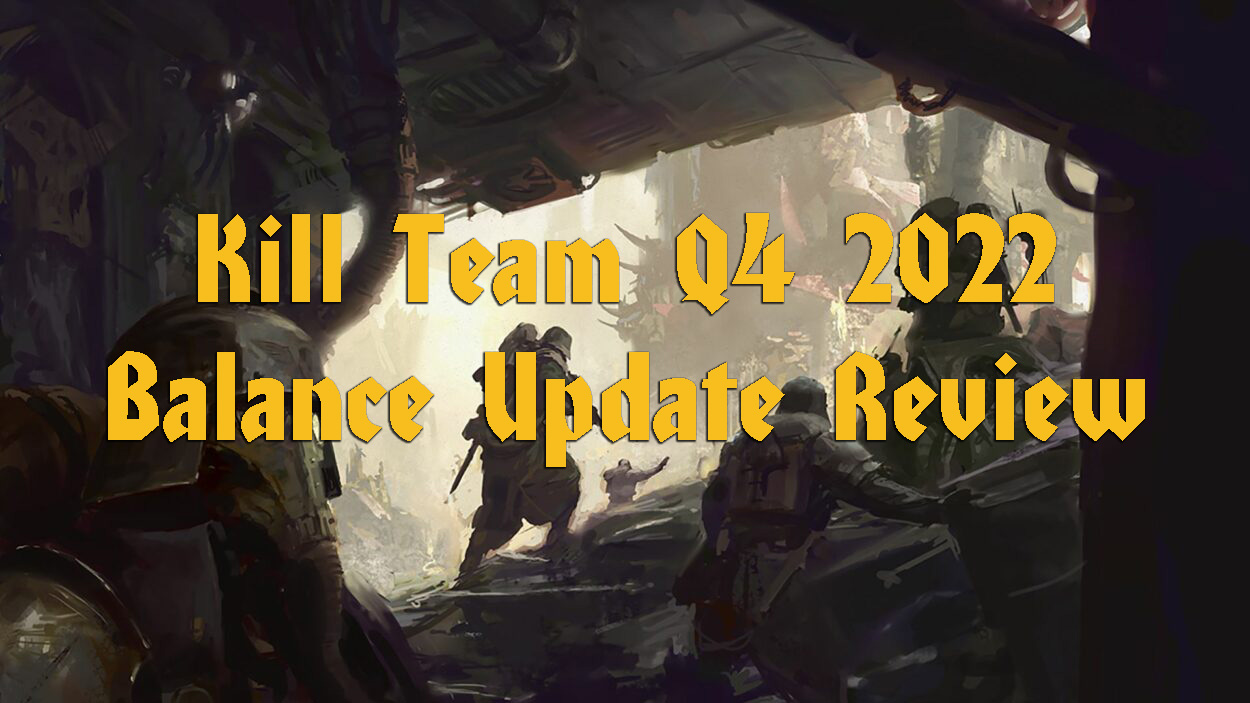 Hello, fellow wargamers! Today we want to talk about a new balance update for our favorite game - Kill Team. So what do we have here?

Now, movement cannot be lower than 4 inches. Nice! Especially if you're playing Death Guard or Necrons.

Pathfinder. Change is totally cringe. Now they must take 1 less operative. That hurts. How critical are these changes? The big question, tests are needed. They still have all their tricks but out activation will be harder. That's the price for being an S-tier kill team all over the year.

Phobos Strike Team. Looks like we've got new S-tier marine boys here. They had a problem with AP, but it was solved. The new ploy is brilliant. !P1 on Lethal 5+ guns for 1CP? Give me two! Do you think that's all? No. Now the Terror action costs 0 APL! Wow! Get ready to descore all of your opponent's points. Also, Multi-Spectrum Array now ignores Obscure and Guerilla Warfare can be activated if we don't have an enemy within 3 inches. These changes are so good and now Phobos has a big future.

Hunter Clade. Guys, we have a problem. Now you can't include more Sicarian than Rangers and Vanguards. Sure they give us +1 operative if we have 4 or less Sicarian. But that is still a big nerf. Tests are needed.

Void-Dancer Troupe. You must pay +1 CP for Domino Field each time you've used it. We just don't have enough words to say how bad this nerf is.

Gellepox Infected. Nerfs, nerfs, nerfs. Your zombies and small guys now have Revoltingly Resilient only on 6+ and Techno-curse now has a smaller range. We think that's bad but not critical.

Elucidian Starstriders. Very interesting buff. Lectro-Master's abilities now cost 0 APL which makes him perfect at objective control. Rotor Canon now has Relentless. It should have had it from the beginning but who cares. New Privateer Support use for +1 BS to ALL your operatives is pretty good. After all, that update makes Starstriders a much more attractive choice. They have a good win rate at a high-skill cap now we think more will try to play them.

Farstalker Kinband. Oh no no! Look at these dudes! Look at the tops of their heads! Farstalker buff is so BIG.+1 operative, +1 to BS of Bow Hunter, Pistolier, and Long-Sight, Cut-throats now have a limit of 5 attacks which means we can boost our dogs, Meat and Trophy now cost much lower. And Rogue now ignores No Cover. On paper that team now sounds incredible, they have many activations, mobility, and survivability. S-tier awaits.

Hierotek Circle. They were weak and very interesting to play. Now they have a buff which looks good. More wounds for Cryptek, resurrection ploy for him now costs 0 CP and Living Metal works after res. But is this enough to make them competitive? Time will say, now we need testing.

Intercession Strike Squad. Crème de la crème of this dataslate. Did you want a nerf for cessors when they hit you like a train? You got it. No changes for them.
How do these changes feel? Pretty good actually most of the changes are fair and interesting. And do you know? Intercessors are an absolutely balanced kill team.